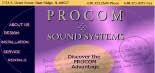 About Us
Design
Installation
Service
Rentals
What We Do
Contact Us
Procom Service Program

From our initial meeting to post system support, the
PROCOM ADVANTAGE will be clearly visible
throughout all the phases of your project.

PROCOM SERVICE PROGRAM

Procom provides system adjustments at no additional cost
for ninety days following date of project completion.

Procom responds to service calls during the business week
within twenty-four hours

Procom performs all factory authorized warranty work for one
year following project ompletion at no additional cost.

Procom provides advanced replacements or loaners if a
component under warranty is sent in for service.

Work not covered under factory warranty is billed at a
$140 minimum fee, including one hour of service. Additional time
is billed at $70 per hour in fifteen-minute increments.