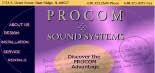 About Us
Design
Installation
Service
Rentals
What We Do
Contact Us
Consultative Approach

When we meet with you for the first time, expect to
answer a lot of questions. We will want to make sure
that we understand exactly what your expectations are
for your new system. At Procom Sound Systems, we
know that each system we design is as unique as the
person or organization that we design it for. That's why
a complete understanding of the scope of your project is
so essential to us.

Comprehensive Designs

Once the project profile is complete, the actual design
process can begin. With thousands of products available
to us, we are confident that a perfect blend of price,
performance and presentaiton can be achieved to meet
your every need.